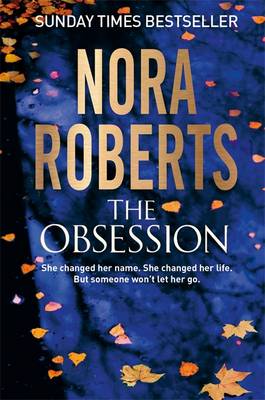 Hardcover: 464 pages
Publisher: Piatkus (14 April 2016)
ISBN-10: 0349407754
ISBN-13: 978-0349407753
She changed her name. She changed her life. But someone won't let her go. The brand-new novel of love, drama and hope from legendary Nora Roberts.
Naomi Carson is a survivor. As a child, her family was torn apart by a shocking crime. It could have destroyed her, but Naomi has grown up strong, with a passion for photography that has taken her all around the world.
Now, at last, she has decided to put down roots. The beautiful old house on Point Bluff needs work, but Naomi has new friends intown who are willing to help, including Xander Keaton - gorgeous, infuriating and determined to win her heart.
But as Naomi plans for the future, her past is catching up with her. Someone in town knows her terrifying secret - and won't let her forget it. As her new home is rocked by violence, Naomi must discover their identity, before it's too late.
Cover: I like how simple this cover is. I like that it's not a typical dark and gritty thriller type cover, as they're not my favourite.
I've read a few of Nora Roberts romantic thrillers now, and I have to say I've really enjoyed the ones I've read so far -Whiskey Beach and The Liar.
And I loved this one.
It instantly drew me in, with such an interesting premise.
Naomi has lived a difficult life- when she was young she saved a young woman's life. A young woman trapped in a cellar. A young being tortured by Naomi's father. Her discovery changes her and her family's life forever.
Years later, she's changed her name and trying to forget about it, never getting too attached to people, because when they find out who she really is- things change.
With Xander though, things could finally be different.
While Naomi's happiness is finally within reach, women in the small down keep disappearing...and turning up dead. Killed much in the same way her father murdered so many.
I loved this story- I liked that it told the story of a notorious killer's family, what happens to them, what they go through.
Also, the suspense with this 'new' killer on the loose.
My only issue was that the big reveal, the threat, and the over all ending seemed very sudden. We had a big (and well done) build up. And suddenly it was all over.
I would have liked a little more of an ending.
The romance between Naomi and Xander- I liked it.
I liked that they started off on the same page- nothing serious just fun and friendship between them, but it developed into something else. Felt organic and it really worked.
The dog- Tag. A stray dog that Naomi ends up with- totally stole the show for me. He was an adorable little scene stealer. Having a dog myself I totally knew what Nora Roberts meant when she wrote about him having expressive eyes, and knowing what humans are saying. I loved him.
Over all, this was a great read that had my thoroughly engrossed, and I had a bit of a book hangover after reading this- had no idea what to pick up after, really struggled. Would definitely recommend picking up.
4.5/5 stars.
Read from April 06 to 10, 2016