In this post as part of #WelcomeToMyWorld I'm going to share with you my top favourite paranormal romance moments or couples.
1. Black Dagger Brotherhood by J.R. Ward
I love this series. I remember being in town and picking up the first two books from Borders. Borders!!
As soon as I started this series I loved it- and I love all the couples from the series, but my all time favourite remains the first- Dark Lover, Wrath and Beth. I just love them as a couple.
Wrath is the reluctant Vampire King, purebred last of his line. Beth is a half breed- half vampire half human orphan that unknown to her- her father is a Vampire warrior. When he dies suddenly Wrath is honour bound to find Beth and help her through her transition
My favourite moment is when Beth goes through the transition- her life is in danger and I just melt at how Wrath stays with her the entire time, encouraging her to life. He's terrified she's not going to make it.
2. The Others by Anne Bishop
This series is amazing, and absolutely one of my all time favourites. It's a paranormal/urban fantasy. And one of my favourite couples are the 'main characters' Simon and Meg. Their friendship develops so beautifully and it builds over the books so well- but they are not yet a romantic couple. It's slowly but surely heading in the direction and each book I'm like, 'is this the book it's going to happen???' But with a shapeshifter and a blood prophet things are going to progress carefully.
I have so many favourite moments between these two that it's hard to choose- but one of my favourites is from book 1, towards the end, and Meg is in hospital and Simon, in wolf form, stays with her to keep her warm.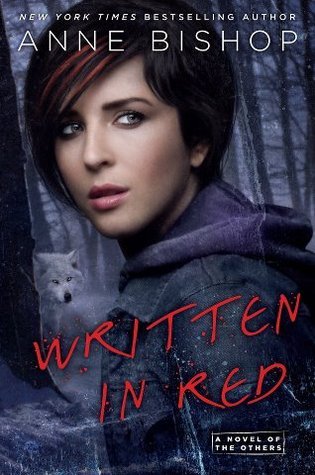 3. Psy-Changeling by Nalini Singh
After falling in love with the Black Dagger Brotherhood I went on a bit of a binge- looking for more paranoraml romance type books, and I stumbled across the first book in the Psy-Changeling series, Slave To Sensation and I started it one evening and I couldn't put it down- I stayed up until about 3am and finished it in the one sitting. It was such a fast paced read. It was a unique read for me, I'd not read anything like it before- about shape-shifting changeling and psy, a race with mental psychic abilities. The changelings are a touchy feely race- close and family orientated. They psy have altered their own race- taken away their ability to feel emotion. They're a cold, clinical race. They've done it so they can focus on their abilities and take away crime fueled by feeling. Except it seems they may not have been as successful as they'd hoped...and plan to keep it a secret.
Lucas is an alpha changeling- it's his job to protect his pack. Sascha is a psy- but one that is slowly fracturing, her mind is breaking and her conditioining is failing. She's starting to feel things. Her mother send her to spy on the changeling but there's a connection between her and Lucas.
I loved this book enough to read it in one go- so there were a lot of moments I loved- but I love the moment that Lucas realises that Sascha is his mate. When she's travelled into enemy terroitory and had a mental breakdown and he finds her unconscious. My heart was in my throat.
In conclusion- I'm sappy. And I love a good romance story- and a romance story with paranormal elements is right up my street.
So what are your favourite paranormal romances and why?