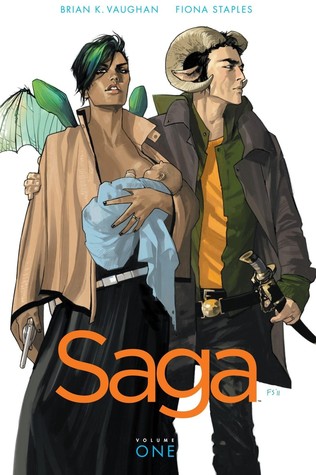 Paperback: 160 pages
Publisher:

Image Comics (25 Oct. 2012)

ISBN-10:

1607066017

ISBN-13:

978-1607066019
When two soldiers from opposite sides of a never-ending galactic war fall in love, they risk everything to bring a fragile new life into a dangerous old universe.
From bestselling writer Brian K. Vaughan,
Saga
is the sweeping tale of one young family fighting to find their place in the worlds. Fantasy and science fiction are wed like never before in this sexy, subversive drama for adults.
Cover: I love the cover for this.
I'm not a graphic novel reader.

I'm just not.
But there's such a buzz and hype about this book in the booktube world, and from descriptions, sounds like a plot I would enjoy as a book, so thought I would give this graphic novel

a try.
I don't know how I can really judge, but I loved the artwork.

I thought it was fantastic.

Colourful and vibrant- even thought I don't have much to compare it to, I still appreciated it.
I loved the story of two star-crossed lovers-running from their enemies across the galaxy so they can raise their baby.
While I struggled at some points to understand what was happening- I think because it's a different way of reading, where I'm used to reading just text, eventually I got used to it, and found myself engrossed in the story.
Will be continuing with the series without a doubt.
4.5/5 stars.