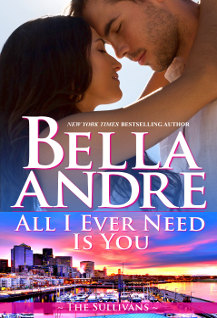 Format: Kindle Edition
Print Length: 353 pages
ASIN: B00VN1J60A
Seattle architect Adam Sullivan is well known for his brilliant historic building restorations—and for having absolutely no interest in love and marriage. He's happy for his siblings and cousins who have found true love, but though they're clearly hellbent on seeing him settled, his family is just going to have to accept that Cupid's arrow will be skipping this Sullivan. That is, until he meets Kerry Dromoland…and suddenly Adam starts to question everything he once believed to be true about falling in love.
As one of the top wedding planners in Seattle, Kerry has been waiting her whole life to find her own true love. So even though Adam makes her heart race and her body heat up every time they're together, she knows better than to think he could be "the one." Still, knowing he's Seattle's biggest player doesn't make it any easier to resist his breathtaking kisses and wicked caresses…or the fact that he makes her smile more than any man ever has.
But when Kerry desperately needs Adam's help—and he comes through for her without the slightest hesitation—she begins to realize that there just might be more to the man she can't resist than she'd previously thought. Can the bad boy with no interest in being reformed—and the woman who has no interest in reforming a bad boy—find forever together?
Cover: I'm a big fan of the covers for The Sullivans series! I love super cheesy, romantic covers. And that's exactly what I get from this series' covers.
I've been a fan of this series for a couple of years now.
And I always pick up the next book when they're released.
And this was no exception.
I love this series.
It's simple, but thoroughly lovable, contemporary adult romance series. Each book is about another member of the Sullivan family falling under love's spell.
Adam has seen all of his family fall in love, and while happy for them, knows that it isn't for him. He's convinced of it.
At least- he was until he meets Kerry- his brother's wedding planner.
They decide on a casual physical relationship. But soon, both find themselves wanting more- but can it work between them?
Super sweet, and sexy.
A great addition to the series. Not my favourite, but I loved it nonetheless.
4/5 stars.
Read from April 19 to 22, 2015