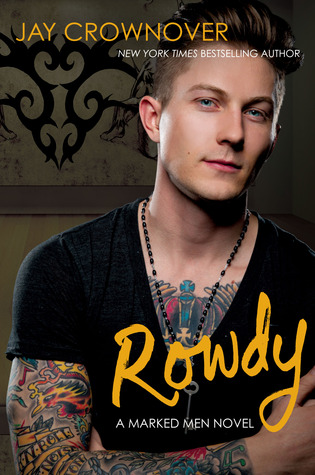 Format: Kindle Edition
Print Length: 401 pages
Publisher: Harper (23 Oct. 2014)
ASIN: B00J1XVSA8
The New York Times and USA Today bestselling Marked Men series continues with this sizzling, sexy story of love, heartbreak, fate, and second chances.

After the only girl he ever loved told him that he would never be enough, Rowdy St. James knocked the Texas dust off his boots and set out to live up to his nickname. A good ol' boy looking for good times and good friends, Rowdy refuses to take anything too seriously, especially when it comes to the opposite sex. Burned by love once, he isn't going to let himself trust a woman again. But that's before his new co-worker arrives, a ghost from the past who's suddenly making him question every lesson he ever learned.

Salem Cruz grew up in house with too many rules and too little fun—a world of unhappiness she couldn't wait to forget. But one nice thing from childhood has stayed with her; the memory of the sweet, blue-eyed boy next door who'd been head over heels in love with her little sister.

Now, fate and an old friend have brought her and Rowdy together, and Salem is determined to show him that once upon a time he picked the wrong sister. A mission that is working perfectly—until the one person that ties them together appears, threatening to tear them apart for good.
Cover: Mmm what an appealing cover.
As with most series, there are some books in this one that I have liked more than others. My favourite remains Rule.
But I've enjoyed all the books in this series so far.
And Rowdy was no exception.
I fell in love with Rowdy, and I hate to say it...but he rivals Rule for my affections.
Everyone he has ever loved has left or hurt him. Until he finds solace with the other members of the gang, and finds purpose for himself and his art in tattooing. He's shut out the damage the Cruz sisters did to his heart, but when Salem reappears, it forces him to feel things he's tried to forget.
I loved Salem and Rowdy. Anybody with eyes could see they were made for each other. How Rowdy could ever have thought that he loved her sister, Poppy, is beyond me. They are two people, so in tune with the other.
Seeing them work their way back to each other was beautiful. And their chemistry practically leapt off the page.
I also loved seeing what was happening with the rest of the gang. Seeing their lives and loves progressing. I like how they're not forgotten.
Over all, this was definitely one of my favourite books in this series.
5/5 stars.
Read from May 22 to 23, 2015