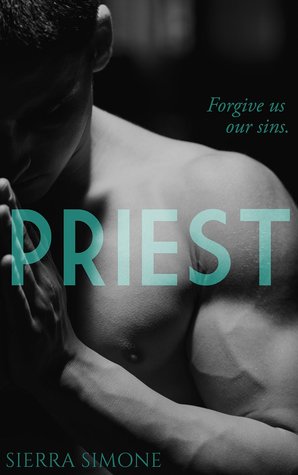 Format: Kindle Edition
Print Length: 352 pages
ASIN: B00WHGBTHI
There are many rules a priest can't break.
A priest cannot marry. A priest cannot abandon his flock. A priest cannot forsake his God.
I've always been good at following rules.
Until she came.
My name is Tyler Anselm Bell. I'm twenty-nine years old. Six months ago, I broke my vow of celibacy on the altar of my own church, and God help me, I would do it again.
I am a priest and this is my confession.
***

***Priest is a standalone, full-length novel with an HEA. For mature audiences only.***
Cover: Nothing not to like about that cover.
I picked this one up because it was ALL over my Instagram feed. I literally couldn't go onto Instagram without seeing it. So decided to pick it up to see what all of the fuss was about.
And I can see the attraction. Practically the ultimate taboo- of a priest and one of his flock.
I really did enjoy the premise of this one, but I think it fell a tad flat. The sex scenes were hot don't get me wrong, but I think it focused far too much on that much too quickly. Then there were some that made even ME uncomfortable. I'm not religious by anyone's standards, but the use of some objects made even my a tad uncomfortable and I could easily see how some might take offence. Turned it to smut really. When I think the premise was there for a much deeper, romantic story.
Over all, I didn't hate this one, but I wish it had been developed that little bit more.
2/5 stars,
Read from July 09 to 12, 2015