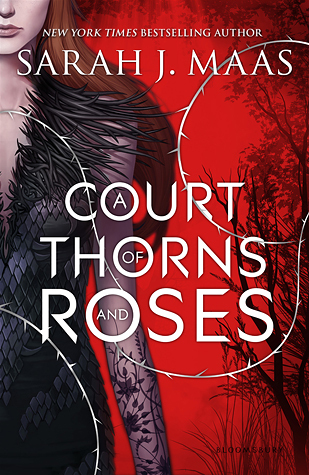 A thrilling, seductive new series from New York Timesbestselling author Sarah J. Maas, blending Beauty and the Beast with faerie lore.
When nineteen-year-old huntress Feyre kills a wolf in the woods, a beast-like creature arrives to demand retribution for it. Dragged to a treacherous magical land she only knows about from legends, Feyre discovers that her captor is not an animal, but Tamlin—one of the lethal, immortal faeries who once ruled their world.
As she dwells on his estate, her feelings for Tamlin transform from icy hostility into a fiery passion that burns through every lie and warning she's been told about the beautiful, dangerous world of the Fae. But an ancient, wicked shadow grows over the faerie lands, and Feyre must find a way to stop it . . . or doom Tamlin—and his world—forever.
Perfect for fans of Kristin Cashore and George R. R. Martin, this first book in a sexy and action-packed new series is impossible to put down!
Cover: I really like this cover. I love that it stand out against Sarah J Maas's other series, and yet won't look completely clash against it either.
I am a huge fan of the 'Throne of Glass' series, so when I saw that Sarah J Maas was releasing another book- I was excited. When I heard that it was going to be based on Beauty and the Beast- the excitement doubled.
But so did the trepidation.
The Throne of Glass series so far, has been epic. And easily one of my favourites.
So, the fear was there- could this new release match up?
And I'm glad to say it was amazing.
I thoroughly enjoyed it.
It took a little while to get into. The beginning a little slow, but it did pick up p
ace.
Feyre has lived a difficult life. She is definitely a tough cookie. She promised her dying mother that she would keep her sisters and father alive. And she does. She teachers herself to hunt so that they have food. But one day, she kills a wolf- with dramatic results.
The faerie world was beautifully described. I was worried, because I don't normally gravitate towards 'fae' books. They just don't normally do it for me, but the magical world in this one, has nearly converted me.
This was also quite dark. Darker than I was expecting. Particularly towards the end of the book, Feyre has to go through some pretty horrific things.
Of course, the romance between Feyre and Tamlin.
If you're familiar with Beauty and the Beast, I'm sure you have some idea of what happens between them.
But I loved the twist that was given. Really took a classic story and gave it a wonderful twist. It made me love Beauty and the Beast even more.
Over all, I think Throne of Glass will always have that special place in my heart- but this one did come close to it and I really look forward to seeing where this series is going to go.
4.5/5 stars.